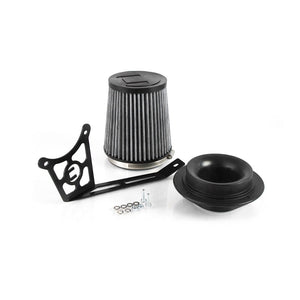 The C.A.R.B certified COBB Tuning SF Intake removes a pre-turbo restriction in the stock intake system. This easy to install intake provides great power gains when combined with custom mapping on your Accessport! The SF Intake system utilizes several unique features in an effort to maintain optimal flow for performance such as a custom conical cloth air-filter element and a CFD-designed velocity stack. The intake utilizes a one piece design constructed from a high temperature plastic composite, saving weight and reducing heat transfer.
Increased Induction Sound
Enjoy the increased snarl from your engine and hear the turbo spool more clearly with the addition of the COBB Tuning SF Intake system. Turbocharger induction noise and bypass valve venting sound is much more audible using this intake system.
Easy to Install
The COBB Tuning SF Intake was designed to be easy to install without having to modify your car. Installation requires no cutting or trimming of any components and can be completed with simple hand tools. Simply remove the stock airbox and bolt the SF intake into place in just minutes.
Free Tuning Provided
COBB Tuning calibrators have provided Off-The-Shelf maps designed specifically for the EVO X SF Intake. Visit the Mitsubishi EVO X Accessport Map Database to see the full selection of maps available for the SF Intake.