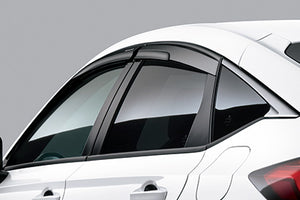 Ventilated visor with excellent ventilation performance.
In the case of a general door visor, when used with the window lowered slightly, the air discharged from the front of the opening tends to become a vortex and flow back into the room from the rear of the opening. The ventilated visor is equipped with a rubber blade at the bottom of the front visor body, so that the rear of the visor is closed even when the window is slightly lowered*, and the opening is limited to the front to allow air to escape from the room. Prevents backflow of air.
In addition, the negative pressure generated during driving effectively promotes the discharge of air. In addition, it greatly improves the comfort of use as a visor, such as preventing raindrops that tend to enter when the window is opened and rainwater splashed by other vehicles. Made of smoked acrylic. Set of 4 front/rear.