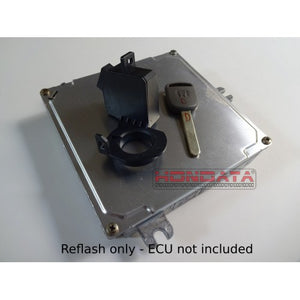 Reflash your 2002-2004 Civic Si engine computer.
Fuel, ignition timing and cam timing optimized.
Rev limiter raised to 7700rpm.
10-12 peak hp gain depending on the dyno and modifications
4-9ft lb torque across the rev range
Power peak raised 400 rpm from 6300 rpm to 6700 rpm (higher with headers)
0-60 mph times improved by 1 second.
Fully dealer compatible -works with all Honda scan tools and equipment.
This is for an ECU reflash – the ECU is not included.  Hondata does not sell direct – the reflash must be purchased from a Hondata dealer. The ECU reflash form must be sent with your ECU.
We do not recommend the use of nitrous or forced induction for this reflash. For these applications use the K-Pro.
We recommend that 91 octane fuel be used with this reflash.