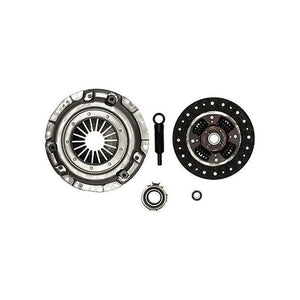 EXEDY OEM Clutch Kit
EXEDY OEM Clutch Kit
EXEDY OEM Clutch Cover
All cover assemblies endure a precise robotic testing process to ensure proper clamp load and clutch lift separation. This step ensures optimal pedal feel for better drivability. To help guarantee durability, the diaphragm spring (dark fingers in the center) receives special high frequency induction heat treating. This helps prevent the wear that normally occurs at the contact surface of the release bearing. Together, these procedures provide you a like-new pedal feel throughout the life of your clutch.
EXEDY OEM Clutch Disc
EXEDY Engineers develop, perfect and manufacture our own friction materials. We produce a material with exceptional friction and wear characteristics that will help engage smoothly, grip as expected and provide you with a longer lasting installation. Disc Spring Dampers: This is the center section of the clutch disc. EXEDY spring-type disc dampers are patented worldwide to suppress engine and driveline noise by absorbing vibrations .Vehicle-specific designs let you enjoy your ride without compromise.
EXEDY OEM Release Bearing
EXEDY OEM Release Bearing
To confirm your application , please visit : https://www.exedyusa.com/products/FJK1000