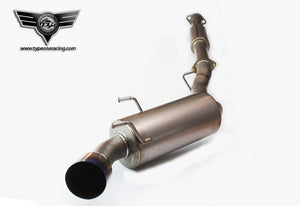 Introducing the legendary Hand crafted titanium exhaust system from Type One Racing. Featuring 70mm (2.75″) main piping with resonated B-pipe and muffler. The entire system weighs ONLY 5.45 kg (12 lbs) so you gain power and save weight at the same time. Comes with a 101mm (4″) gradient finish tip with a distinctive look.
True free flowing exhaust system made for maximum performance gains.
Designed for Race USE ONLY !