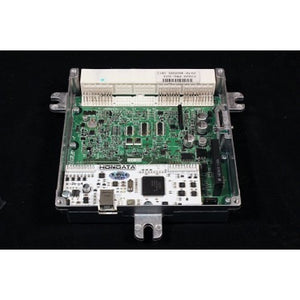 2001-2005 D17 Civic DX, LX, HX & EX Manual transmission only (US vehicles only)

The K-Pro for the D17 consists of a hardware modification to a donor K-Series ECU, a specially modified cam timing wheel, plus Windows software which allows you to re-program the ECU and datalog sensors.
To order, fill out this form and contact a Hondata dealer. Turn around time is usually 2 days from the time the ECU is received by Hondata.
Warning
Within the USA this product is legal only for racing vehicles which may never be used upon a public highway.
Application Notes
The stock D17 ECU cannot be converted to a programmable ECU. A new RSX-S ECU or donor ECU must be used.
The Hondata adjustable cam pulley has specially modified timing teeth. The stock timing wheel will not work.
The Civic HX and all 2004-2005 Civics use a wideband 02 sensor compatible with the K-Pro.
Base maps are included for a stock D17 non VTEC Civic and a D17 non VTEC turbo.
The K-Pro ECU will not work on automatic D17 Civics.
Any K-Pro used on a 2002-2004 RSX-S will work provided the Hondata cam gear is used.
Donor ECUs
ECUs for the D17 may be sourced from the following vehicles
2002-2004 RSX Base 5 speed (PND -A0 ECU)
2002-2004 RSX Type S 6 speed  (PRB-A0 - ECU)
2002-2004 CRV 5 speed (PPA-A0 ECU)
2002-2005 Japanese DC5 Integra Type R (PRC ECU)
2003-2005 Japanese Civic Type R (PRD ECU)
2002-2005 Civic Si (PNF ECU)
General Notes
All 2004-2005 Civics and the 2001-2003 Civic HX use a compatible wideband 02 sensor. Two wires need to be moved for rear O2 operation.
The 2001-2003 Civic DX, LX & EX Civics use a narrowband 02 sensor. Two wires need to be moved for closed loop operation.
If you plan a K engine swap, install the appropriate engine harness and switch on VTC in the KManager software.
Tables may be map-traced in real time.
The K-Pro ECU is not real-time updateable, however most changes to tables and settings can be uploaded in 1-2 seconds via USB.
Most OBDII features may be disabled for race vehicles.
The D17 knock sensor is incompatible with the K-Pro and must be disabled in the KManager software.
Error codes and the OBDII readiness status may be datalogged.
The K-Pro ECU can be matched to the Civic immobilizer system. See here for

 

details.
For training materials see

 

here.
Installation
The adjustable cam pulley is shaped differently than stock. You will need to remove the power steering pump and alternator and loosen the engine mount.
Removing the stock ECU is fairly involved. There are three choices for the K-Pro installation:
The K-Pro can be installed in the location of the stock ECU.
The K-Pro circuitry can be installed into the Civic's stock ECU case. You will need to cut a USB hole.
The K-Pro ECU can be installed in the glove compartment. You may need to cut the rear plastic.
2004-2005 DX/LX/EX & 2001-2005 HX installation
For the Civics that use a wideband sensor you need to move two wires to activate the rear O2 sensor. If you have OBD 2 disabled and do not need to use the secondary O2 then it is not necessary to move the wires.
2001-2003 DX/LX/EX installation
These Civics have a narrowband O2 sensor. The donor US ECUs (see above) are designed to run by default with a wideband front O2 sensor. So we use a European PRA calibration, which is designed to run with a front and rear narrowband O2 sensor, feed the voltage from the Civic's front O2 sensor into the K-Pro's rear O2 sensor input, and alter the K-Manager software to run closed loop from the secondary O2 input. In this situation OBD II must be disabled.
**This service requires buyer to send in the ECU then we will send to Hondata to get the K-Pro installed then we will return the ECU to you. Turn around time , approx. 2 weeks**